2023 In-Cosmetics Global Highlights
In March (Mar. 28-30), GIGA Fine Chemical attended highly-anticipated In-Cosmetics Global exhibition as an exhibitor for the first time. We are thrilled to share with you some of the amazing feedback and perspectives we gained from this three-day event.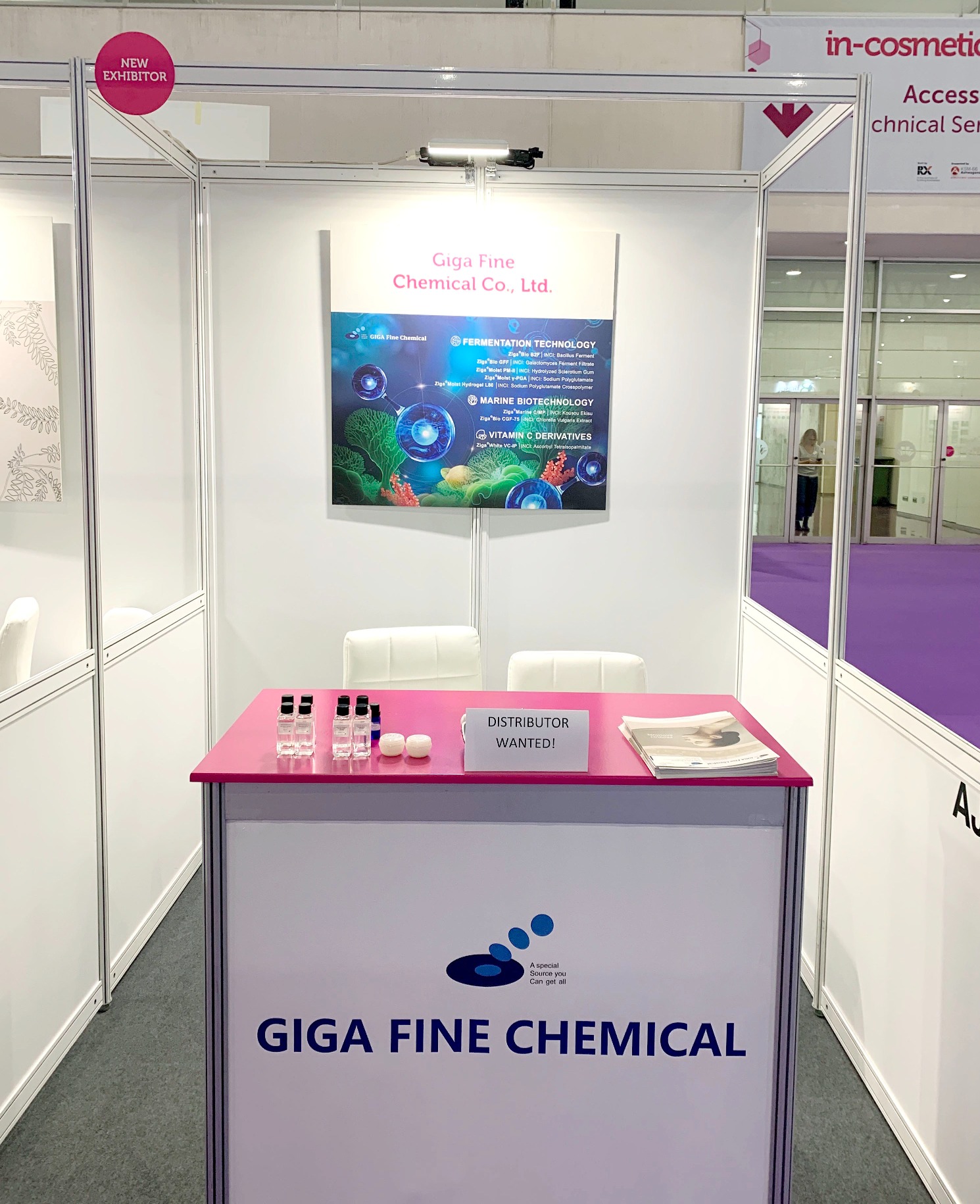 At GIGA Fine Chemical booth, we presented our fermented ingredients, marine ingredients and oil soluble vitamin C derivative VC-IP. Lots of visitors were attracted to our COSMOS approved active ingredients and responded favorably to the following products.
ZigaBio B2F (INCI: Bacillus Ferment) and ZigaBio GFF (INCI: Galactomyces Ferment Filtrate) which are fermented byproducts by bacteria and yeasts. ZigaBio B2F contains a high concentration keratinase that acts as a mild enzymatic exfoliator and makes the skin smooth ad shinny. ZigaBio GFF contains a high content of galactomyces ferment that imparts antioxidant effects, helps strengthen the skin barrier, improves uneven skin tone.
ZigaMarine C/MP (INCI: Kousou Ekisu) , a marine ingredient which extracts Taiwan red grape algae. It has demonstrated effectively with an anti-inflammatory and soothing ability to the skin.
ZigaWhite VC-IP (INCI: Ascorbyl Tetraisopalmitate) , an oil-soluble vitamin C derivative that is stable at high temperatures and is compatible with other oils. It acts as anti-oxidant to reduce the production of melanin and stimulates the synthesis of collagen.
Lastly, we feel blessed and honored that we can participate in this international event after experiencing long restrictions caused by pandemic issues. Thank you for trusting and cooperating with us. We look forward to growing prosperous together.